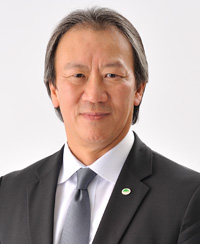 I am deeply grateful to the people in Asia for supporting the Japanese who have suffered from the recent devastating earthquake and tsunami.
Hitachi, Ltd. is determined to contribute to the restoration of Japan's social infrastructure in Tohoku region. This is the time for Hitachi to show its ability based on its accumulated experiences through the Social Innovation Business we have set as our core business.
As a new Chief Executive for Asia and Chairman of Hitachi Asia Ltd., I promise to continue strengthening our activities for the Social Innovation Business initiatives to become a global business leader in advanced social infrastructure enhanced by IT technology and systems.
Hitachi Asia will be taking a more proactive role and providing more open windows to respond to needs and queries from customers and partners in Asia. We aim to realize advanced social infrastructure with the Hitachi Group of Companies as "One Hitachi" to contribute to our markets in Asia.
As such, Hitachi Asia is committed to continuing growth efforts in Asia by developing cutting-edge solutions for competitiveness. We also plan to further deploy more market-centric resources to deepen the communication and relations with relevant market and industries.
Finally, I would like to stress that we are well-positioned to meet the Social Innovation needs of Asia with our committed talents in the region.
Mr. Kiyoshi Kinugawa
Chief Executive and
Chief Innovation Officer for Asia,
Hitachi, Ltd.